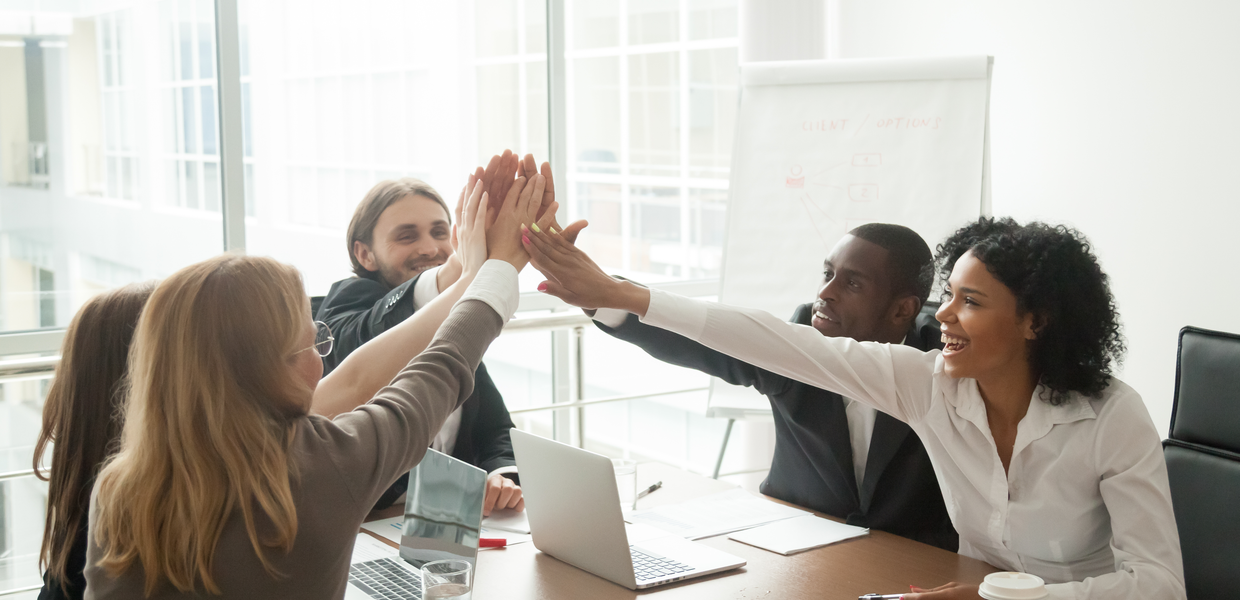 The Easy-To-Follow Approach To Effective Employee Goal Setting And Tracking
Employees that are energized, connected to, and enthused about their work are essential to establishing and maintaining a profitable business. Workers who have a positive attitude about their work and understand that they are valued drive performance, usefulness, and, ultimately, improve the overall well-being of the company.

In every sector, developing employee passion and commitment should be a top priority for management. Furthermore, one of the simplest and most effective methods to help your employees feel present and motivated in their jobs is to encourage them to set improvement goals that will keep them moving forward on a continuous basis.
Whatever the case may be, for employee goal setting and tracking to be effective, it must be more than something that heads scratch off their to-do list. Now let's talk about some of the missing parts of employee goal setting and tracking.
What exactly is employee goal setting?
This is a process of setting specific, role-oriented objectives and ones you can track which employees work towards while at your company. Employee objectives are usually the result of a collaboration between a supervisor and a manager. They consider the employee's aims, the needs of their future planned career, and the access to resources.
The aim is to utilize these goals to track employee performance overtime at your company, assess ongoing development, and recommend any training and skill development or continuous education that may be required to meet these objectives. They might be short or long-term, and any incentives for finishing them should be proportional to their magnitude.
What Do You Benefit From Employee Goal Setting And Tracking As An Organisation?
Increased employee engagement: Giving your staff an objective to strive towards can enhance productivity and organizational performance on a daily basis. Skill development provides employees with the ability to attain their goals.
An edge in competition: When employee aspirations and skill development are linked with business goals, it may eventually enhance organizational growth.
Better staff retention: A higher percentage of employees who are leaving a job say they would stay if their employer invested more in staff education. It's obvious that fostering skill development and lifelong learning as part of a goal-setting and tracking process will assist decrease turnover.
Challenges of goal setting and tracking
Even though the merits of employee goal setting and tracking are straightforward, there seem to be a number of obstacles that might hinder you from reaping the rewards and these include:
Uncertain objectives
There is a misalignment between goals and the company's overall vision.
Expectations that are unrealistic or impossible
There is no way to measure progress.
Types Of Employee Goal Setting And Tracking Frameworks
Based on how you organize order and progression inside your organization, you may need to sort out staff goals with a specific objective in mind to reasonably oversee expectations about progress and obligations. You can utilize a variety of employee goal setting and tracking frameworks, such as the ones listed below.
OKR goal setting
Entrepreneurs, professionals, and organizations utilize objectives and key results (OKRs) to establish executable tasks and assign results you can track . Whenever a goal is set, the objective and key results are explicitly stated to provide a logical route to follow.
The objective is a high-level goal that establishes particular expectations for a project. Data points or actions along the route that track how a team or person plans to attain the goal are referred to as key results.
An example of a personal OKR may be as follows:
Objective: Improve interaction and communication with colleagues from various teams.
Key result 1: Every week, have lunch with a different workmate.
Key result 2: Organize a cocktail hour
Key result 3: Collaborate with other teams on different project
MBO goal setting
Management by objectives (MBOs) is a goal-setting technique that uses an incentives approach to promote individual and business performance and boost enthusiasm.
In this model, the supervisor and line manager collaborate to develop attainable personnel goals that are in line with the organization's overall objectives. Achieving these objectives is usually rewarded, either financially or in other ways, such as an award or promotion. MBOs may also be used to create goals for the entire company or department.
MBO goals for an organization can look like this:
Reduce revenue by 35%.
Increase managerial diversity by 55 percent.
Increase the net promoter score of employees by at least 80 %.
SMART goal setting
SMART stands for specific, measurable (can track), achievable, relevant and time-bound. To emphasize the significance of assessment in goal-setting, it's typical to add efficacy and feedback (SMARTER) to the end of the acronym. The SMART framework was created to help individuals and organizations achieve their objectives by providing explicit instructions.
Check out the following example:
S — I want to get the knowledge and expertise required to become an IT Support Specialist at my firm.
M — Before I can move to the director level, I must finish training courses A, B, and C and hold the position of an IT Support Specialist
A — I have the requisite fundamental skills and experience, as well as access to ongoing education through my employment, to enable me achieve my goal.
R — In my present work as an IT Specialist, I am excelling, and this career path aligns with my wider life objectives as well as the aims of my employer.
T —In the next five years, I plan to fill the position of a Senior IT Specialist and finish my master's degree. This will put me on the fast track to becoming a System Administrator in the next eight years.
Employee Goal Setting Examples
Role-specific goals are those that workers establish for the roles they currently or wish to hold inside the firm. This sort of goal may be focused on performance at work, growth, or individual productivity. For example, a Junior IT Specialist can define an objective of becoming a Senior IT Specialist, and measures like training, upskilling, and greater responsibilities can help them get there.
Team-specific goals are those that organizations and individuals working together can set for themselves as well as for one another. This aids in the decision‐making of your department, as well as the clarification of the roles and responsibilities of the individuals who comprise your team.
The demand for skill improvement is a prevalent thread in employment. A new degree, certificate, or just more extensive training to build on a certain skill set may be required for an employee goal. Organizations must prioritize skill-building efforts, such as a staff education program, to assist employees in setting and achieving their goals.
Start setting goals with your employees today
There are several advantages to emphasizing setting objectives for your employees within your firm, ranging from increased engagement to enhanced retention. Furthermore, your team members will understand that management is concerned about their development and is dedicated to assisting them in building their careers.